Official: PokerStars is absorbing Full Tilt in April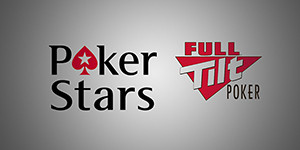 Yesterday the rumors were confirmed, and on the official website of the company Amaya Gaming appeared a press release announcing that PokerStars and Full Tilt will merge their player pools this spring. For a long time Full Tilt Poker is rolling down, and once a delighting refuge for high stakes games online, now ranks the eleventh place in the ranking of poker rooms. The reasons for such a decline are seen in the major changes in its cash-game tables.
Amaya Inc. and its chief executive David Baazov, who made an unprecedented deal worth $4.9 billion buying these two brands, are apparently tired of waiting for positive changes. The office employees of Full Tilt in Dublin have been warned and have started to search for new jobs.
The company officials claims that Full Tilt is still a lucrative brainchild, but after the merger, gambling operator Amaya will own 70% of the online gambling market. As for the users, they will be able to withstand more opponents that will make the game more interesting and dynamic.
The release also states that technological innovation will now be actively developed and implemented quickly, because it is no longer needed to disperse their efforts on the two poker platforms, but they can focus their attention on the technological development of a single one and provide players with better experience.
In 2011, the brands PokerStars and Full Tilt were chased away from the US gambling market after being accused in providing illegal gambling options there.
It is not a secret that Amaya concentrated its efforts on increasing the profit margins, paying their debts. It took a number of controversial decisions that angered the fighters for the clean poker. This keeps major investors in fear the company. It has changed the VIP-program, which severely affected the most valuable and profitable customers.
The merger will take place in April, and players will have a single account at the PokerStars and Full Tilt. During the migration, merging accounts will be united automatically for those who are registered in both rooms. At the same, the nickname on PokerStars will have a higher priority. Those who have an account at Full Tilt, will be able to leave their nickname if it is not busy at PokerStars, or they will be asked to change it to any available option.
Best Bonuses Casino